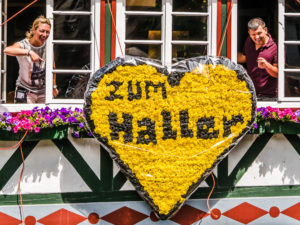 Because of Corona on the weekend pick up service
Until further notice we offer a pick-up service on weekends for our most popular dishes. This applies Friday, Saturday and Sunday between 6 pm and 10pm. Please order in advance by telephone.
Important: Please keep to the legal requirements. In and in front of the "Haller" please keep the minimum distance. Please also note that you are not allowed to eat your food ordered by phone in the "Haller" or within a radius of 50 meters.
We look forward to seeing you and stay healthy!
Your hosts Marco and Jacqueline
The "Haller" is THE cult location in Monschau
You want to spend a nice evening in a rustic atmosphere, delicious food and drink a (or even two) fresh draft beer from the barrel? Then you are in our traditional inn "Zum Haller" in Monschau at the destination of your wishes.
The perfect location of the "Haller" directly on the market square in Monschau with Rurblick (entrance Eschbachstraße), make it a focal point for locals and visitors from all over the world. The Haller is part of the so-called "Rurpartie", probably the most photographed motif in Monschau.
Please note: We are a traditional German Gasthaus (inn) with a small kitchen, but no restaurant. How good it pleases and tastes our guests you can find out here.
And because the seats are limited in the Haller and our restaurant is always well attended, a table reservation is recommended (especially for groups)!
Your hosts Marco and Jacqueline